Sale!
Enhanced Cognitive Function: Super Focus Nootropic Formula is designed to support your brain's cognitive abilities, helping you stay sharp, alert, and focused throughout the day.
Mental Clarity and Concentration Boost: Our powerful blend of ingredients, including Ginkgo Biloba and Bacopa Monnieri, helps improve mental clarity and enhances your ability to concentrate on tasks.
Memory Support: Super Focus contains ingredients like Rhodiola Rosea and other memory-enhancing compounds to support your memory recall and retention.
Sustained Energy: This nootropic formula not only boosts cognitive function but also provides a sustainable energy source, helping you stay energized and productive without jitters or crashes.
Natural Brain Health: We prioritize your brain's health by using natural ingredients that are known for their cognitive benefits, allowing you to support your mental well-being naturally.
Alertness and Productivity: Experience increased alertness and productivity throughout the day with Super Focus, your go-to nootropic brain and focus formula for optimal mental performance.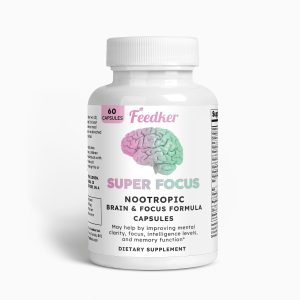 This item:
Super Focus - Nootropic Brain & Focus Formula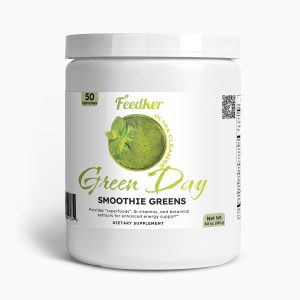 Description
Nootropic Brain & Focus Formula combines a number of powerful amino acids such as Dimethylaminoethanol (DMAE Bitartrate), L-Glutamine, L-Tyrosine, and GABA, which enhance neuroactivity with plant extracts such as Bacopa that alter neurochemistry to improve focus, learning, and intelligence.
Keep your focus sharp and energy high with our natural Nootropic Brain and Focus Formula.
Ingredients: Vitamin A (as Beta-Carotene), Vitamin C (as Ascorbic Acid), Calcium (as Calcium Carbonate), Iron (as Ferrous Fumarate), Vitamin D (as Cholecalciferol), Vitamin E (as DL-Alpha-Tocopheryl-acetate), Vitamin B1 (as Thiamine Mononitrate), Vitamin B2 (as Riboflavin), Vitamin B3 (as Niacin), Vitamin B6 (as Pyridoxine HCL), Folate, Biotin, Vitamin B5 (as D-Calcium Pantothenate), Magnesium (as Magnesium Oxide), Zinc (as Zinc Oxide), Selenium (Selenium Amino Acid Chelate), Copper (as Copper Gluconate), Manganese (as Manganese Amino Acid Chelate), Chromium (as Chromium Picolinate), Molybdenum, Potassium (as Potassium Citrate), Choline (as Choline Bitartrate), Proprietary Blend (DMAE Bitartrate, L-Glutamine HCL, Glutamic Acid, Green Tea Extract, Bacopa Extract, Inositol, N-Acetyl L-Tyrosine, Bilberry Fruit Extract, GABA, Grape Seed Extract, Grapefruit Seed Extract, Olive Leaf, Cinnamon Bark Extract, Licorice Root Extract, Boron, DHA 14%, Vanadyl, Phosphatidylserine, Huperzine A, Cellulose (vegetable capsule), Rice Flour, Magnesium Stearate, Silicon Dioxide.
Contains: Soy & Fish (Tuna Fish).
Manufacturer Country: USA
Product Amount: 60 caps
Gross Weight: 0.25lb (133g)
Suggested Use: As a dietary supplement, take two (2) veggie capsules once a day. For best results, take 20-30 min before a meal with an 8oz. glass of water or as directed by your healthcare professional
Caution: Do not exceed recommended dose. Pregnant or nursing mothers, children under the age of 18, and individuals with a known medical condition should consult a physician before using this or any dietary supplement.
Iron Warning: Accidental overdose of iron-containing products is a leading cause of fatal poisoning in children under 6. Call a doctor or poison control center immediately in case of accidental overdose.
Warning: Keep out of reach of children. Do not use if the safety seal is damaged or missing. Store in a cool, dry place.
The Food and Drug Administration has not evaluated these statements. This product is not intended to diagnose, treat, cure, or prevent any disease.
Additional information
| | |
| --- | --- |
| Weight | 0.113 kg |
| Dimensions | 5.71 × 9.78 cm |
Please
login
to post questions
Question:
Can it be used by my pregnant wife?
willtay
28-Oct-2023
Answer:
It's advisable for your pregnant wife to consult with her healthcare provider before using any new supplement to ensure it's safe and appropriate for her during pregnancy.
Question:
What is the main purpose of Super Focus - Nootropic Brain & Focus Formula?
feedker
07-Nov-2023
Answer:
Super Focus is formulated to enhance cognitive function, mental clarity, and focus.
Question:
What are the key ingredients in this nootropic formula?
feedker
07-Nov-2023
Answer:
The formula typically contains a blend of cognitive-enhancing ingredients like bacopa monnieri, ginkgo biloba, and other nootropics.
Question:
How soon can I expect to experience the effects of Super Focus after taking it?
feedker
07-Nov-2023
Answer:
The onset of effects may vary, but many users report improved focus and mental clarity within hours of consumption.
Question:
Is this product suitable for vegetarians and vegans?
feedker
07-Nov-2023
Answer:
Yes, it's often suitable for both vegetarians and vegans, as it typically contains no animal-derived ingredients.
Question:
Can I use Super Focus to boost productivity at work or during study sessions?
feedker
07-Nov-2023
Answer:
Absolutely, many people use nootropic formulas like Super Focus to enhance productivity and concentration.
Question:
Does this product contain caffeine or stimulants that might cause jitteriness?
feedker
07-Nov-2023
Answer:
It's typically designed to be free from stimulants, allowing you to focus without jitteriness or energy crashes.
Question:
Are there any common side effects associated with using Super Focus?
feedker
07-Nov-2023
Answer:
While side effects are generally minimal, some individuals may experience mild digestive upset. It's essential to start with a low dosage if you have concerns.
Question:
Can pregnant or nursing women use Super Focus - Nootropic Brain & Focus Formula?
feedker
07-Nov-2023
Answer:
Pregnant or nursing women should consult with their healthcare provider before adding any new supplement to their routine.
Question:
How does this formula enhance memory and cognitive function?
feedker
07-Nov-2023
Answer:
The combination of ingredients is believed to support memory, learning, and cognitive functions.