$18.95
Enhance Mood and Reduce Stress: 5-HTP Balance is a natural serotonin booster that helps promote a positive mood and reduce stress, allowing you to feel more relaxed and emotionally balanced.
Improve Sleep Quality: Our supplement supports healthy sleep patterns, helping you achieve restful and rejuvenating sleep, so you wake up feeling refreshed and energized.
Cognitive Clarity: Experience improved cognitive function and mental clarity, allowing you to stay focused and alert throughout the day.
Vegan-Friendly and Non-GMO: Our 5-HTP Balance capsules are vegan-friendly and free from artificial additives, making them a wholesome choice for your daily wellness routine.
Holistic Wellness: Whether you're looking to manage anxiety, support emotional stability, or simply enhance your overall well-being, our 5-HTP Balance supplement is a natural and holistic solution for a healthier lifestyle.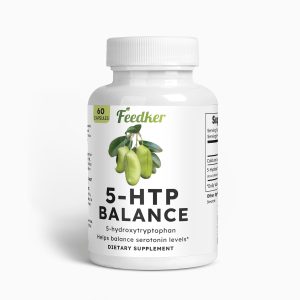 This item:
5-HTP Balance Capsules
Description
5-HTP occurs naturally in the body. Typically, people produce enough for regular functioning, but some require supplementation. 5-HTP dietary supplements aid in increasing serotonin levels in the brain, significantly affecting mood and behavior.
Because serotonin regulates mood and behavior, 5-HTP may improve:
- Sleep
- Mood
- Anxiety
- Hunger
- Pain sensitivity
Since 5-HTP is naturally present in the body, supplementing with it is a clean, holistic way to increase serotonin levels.
Ingredients: see Supplement Facts.
Manufacturer Country: USA
Product Amount: 60 caps
Bruto Weight: 0.25lb (113g)
Suggested Use: Take two (2) capsules once a day as a dietary supplement. For best results, take 20-30 min before a meal with an 8oz glass of water or as directed by your healthcare professional.
Caution: Do not exceed recommended dose. Pregnant or nursing mothers, children under the age of 18, and individuals with a known medical condition should consult a physician before using this or any dietary supplement.
Warning: Keep out of reach of children. Do not use if the safety seal is damaged or missing. Store in a cool, dry place.
The Food and Drug Administration has not evaluated these statements. This product is not intended to diagnose, treat, cure or prevent any disease.
Additional information
| | |
| --- | --- |
| Weight | 0.113 kg |
| Dimensions | 5.72 × 9.78 cm |
Please
login
to post questions
Question:
What is the primary ingredient in 5-HTP Balance Capsules?
feedker
07-Nov-2023
Answer:
The primary ingredient is 5-HTP (5-Hydroxytryptophan), a natural compound derived from the seeds of the Griffonia simplicifolia plant.
Question:
What is the main purpose of 5-HTP Balance Capsules?
feedker
07-Nov-2023
Answer:
5-HTP is commonly used to support mood and emotional well-being, and it may also promote healthy sleep patterns.
Question:
How does 5-HTP work in the body to promote mood balance?
feedker
07-Nov-2023
Answer:
5-HTP is a precursor to serotonin, a neurotransmitter that plays a key role in regulating mood. It helps maintain balanced serotonin levels.
Question:
Can this product be used to alleviate symptoms of anxiety and depression?
feedker
07-Nov-2023
Answer:
Some individuals find that 5-HTP may help reduce symptoms of anxiety and mild depression, but it's essential to consult with a healthcare provider for personalized guidance.
Question:
Are there any additional ingredients in these capsules apart from 5-HTP?
feedker
07-Nov-2023
Answer:
The capsules may contain other natural ingredients or supporting nutrients, depending on the specific formulation.
Question:
Can I use 5-HTP Balance Capsules as a sleep aid?
feedker
07-Nov-2023
Answer:
Yes, 5-HTP is often used to support healthy sleep patterns and may help individuals fall asleep more easily.
Question:
What is the recommended dosage for 5-HTP Balance Capsules?
feedker
07-Nov-2023
Answer:
The recommended dosage may vary depending on the product, so it's crucial to follow the instructions on the product label.
Question:
Is this product suitable for vegetarians and vegans?
feedker
07-Nov-2023
Answer:
Yes, it's often suitable for both vegetarians and vegans, as it typically contains no animal-derived ingredients.
Question:
Can pregnant or nursing women use 5-HTP Balance Capsules?
feedker
07-Nov-2023
Answer:
Pregnant or nursing women should consult with their healthcare provider before using any new supplement to ensure it's safe during this time.
Question:
Does this product contain any common allergens like soy or gluten?
feedker
07-Nov-2023
Answer:
It's generally free from common allergens, but it's essential to check the product label for specific details, as formulations may vary.